What is Endalia?
An integrated HR model.
Consulting
We offer consulting services that complement the implementation of our HR solutions.
Benefit from our experience in the design of HR models and processes.
Software
We offer software for the Management of Human Resources.
We integrate your processes and policies and improve the performance of your employees through development strategies and talent management.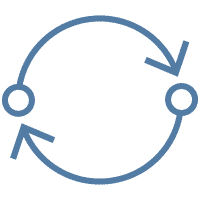 Outsourcing
A different concept of efficient payroll outsourcing and flexible remuneration services.
A team of consultants will be responsible for advising, supporting and managing the processes, thus optimizing your time.
An integral whole.
One of the keys in the efficient management of Human Resources in organizations focuses on having an integrated model that brings together the main processes and information sources.
Starting with a core formed by the People and Organization, HR Endalia includes the infrastructure that supports the policies of Planning, Performance, Development, Compensation, Training, Selection, etc. The integration of information and automation of processes should be part of the management principles of advanced organizations in managing their Human Capital.
End of stiffness.
We are aware of the different realities in each organization. Therefore, we fled to implement generic solutions without adjustability and customization. From models and proven processes, we develop a draft implementation individualized and tailored to the specific needs of each organization.
In this implementation we integrate Endalia with other HR information systems that generate or consume data from different management processes. Each data of the organization is managed in one place and shared with other systems that require it.
Web & Desktop
Two environments. A single system.
Endalia HR has two distinct environments, aimed at different user profiles. A simple and intuitive interface that facilitates the management and deployment of Human Resources processes.
We are outsourcing
Focusing on strategies.
Outsourcing can reduce the administrative burden and improve cost control, release and dedicate specialized resources to more strategic processes of the human resources function or organization.
Payroll outsourcing.
The Endalia HR BPO payroll service. A higher yield of the payroll processes and personnel administration.
It automates and optimizes all management tasks, providing expert advice.
View detail
Flexible outsourcing.
BPO flexible compensation services. An individual remuneration that enables increased net receipts of employees, allocating part of the compensation to in kind products. Use policies to attract and retain talent.
View detail
Even more.
Endalia provides other outsourcing services to reach all the HR function.
Improve your management and administration getting everything you need in an integrated way for a higher profit.
More info
Customers satisfaction
Our best guarantee.
"Endalia has been providing various divisions of Airbus, producing integrated and flexible consulting solutions and software, adapting to the continuous changes of a multinational business like ours. Its experience in the automation of processes in the area of Human Resources has helped us to reduce significantly the time of execution of our processes."
"The relationship between Endalia and our company has been professional and very productive, developing an efficient system tailored to our needs, which has optimized our processes."
"Endalia´s solutions and experience have satisfied our needs for computerization, rapidly, processes and HR policies. As an integrated HR management platform it allows us to systematize new processes not considered in the initial scope of the project. They have surpassed the expectations of a good supplier to become partners in the development of our area. I would also highlight their professionalism, commitment and the quality of their support which is undoubtedly an added asset. "
"As a ESADE technology partner, Endalia has developed the technology that supports some of our processes, such as managing the LEAD platform for assessment and skills development, as well as automation of other models of leadership and learning. Reliability, professionalism at their work and their ability to interpret our needs are a guaranteed success in any project we deal with them."